Here are my power rankings for Week 2 of the NFL season.
1. Kansas City Chiefs (1-0 record, No. 1 ranking last week)
Here's the thing. When Patrick Mahomes does the "f*** it, Tyreek down there somewhere" stuff, we call him "the most talented quarterback in the history of the sport." When Joe Flacco did it, we said he was "lucky Rahim Moore forgot how to play football." I want justice. Joe Flacco is greater than or equal sign to Patrick Mahomes. May it be spoken into eternity.
2. Tampa Bay Buccaneers (1-0, No. 2)
Everyone in America last Thursday after the Cowboys went ahead:
3. Seattle Seahawks (1-0, No. 6)
Smart for the NFL to point out that Peyton Manning was a Hall of Famer in this Tweet because the other guys really aren't that impressive and they need to make sure people understand that one out of three ain't bad.
4. Los Angeles Chargers (1-0, No. 8)
Rashawn Slater for Alejandro Villanueva straight up. Who says no?
5. Arizona Cardinals (1-0, No. 11)
Jaylon Ferguson for Chandler Jones straight up. Who says no?
6. Los Angeles Rams (1-0, No. 10)
"And here in the stands we see Matthew Stafford's wife Kelly …"
7. Pittsburgh Steelers (1-0, No. 12)
Ah. I see the Steelers weren't actually good offensively but their defense and special teams were good enough to get them by and their fans have started running their mouths about how good they are early in the season and geez, haven't I seen a film like this before somewhere?
8. Buffalo Bills (0-1, No. 3)
The bad news? You lost to the Steelers. The good news? You live in the place that gave the world "Wingnutz."
9. Cleveland Browns (0-1, No. 9)
It's the "you almost had it" meme come to life.
10. Miami Dolphins (1-0, No. 15)
Imagine winning your first game in Foxborough in more than a decade and you're not even in the same stratosphere as the most important football story in town.
11. San Francisco 49ers (1-0, No. 17)
It's cool though because I definitely didn't start Brandon Aiyuk over Ja'Marr Chase in multiple leagues. Totally not a thing that happened.
12. New Orleans Saints (1-0, No. 19)
What stood out most is how they were prepared.
13. Las Vegas Raiders (1-0, No. 2)
WUT.
14. Green Bay Packers (0-1, No. 4)
15. Baltimore Ravens (0-1, No. 7)
Matt Harvey thinks Alejandro Villanueva is off to a bad start.
16. Tennessee Titans (0-1, No. 5)
The bad news is that they might go 8-9. The good news is that it might win them the division.
17. New England Patriots (0-1, No. 13)
I'm starting to think you might be able to make at least a slightly coherent argument that MAYBE Bill Belichick needed Tom Brady a little more than Tom Brady needed Bill Belichick.
18. Cincinnati Bengals (1-0, No. 22)
Ja'Marr Chase DOES an issue with drops. Like dropping the narrative, for example.
19. Dallas Cowboys (0-1, No. 18)
How do sportswriters still have jobs?
20. Philadelphia Eagles (1-0, No. 25)
Me: "Never overreact to one week of football."
Also me: "Is saying 'they might be head and shoulders the best team in the NFC East' really even an overreaction?
21. Washington Football Team (0-1, No. 14)
Look, you bought tickets to watch a Washington Football Team football game. You consented to having a bunch of sh*t dumped on you. It's almost certainly printed on the back of the ticket.
22. Carolina Panthers (1-0, No. 26)
Speaking of cats, they better start bringing some of those football field-sized American flags to the stadium in Charlotte …
23. Denver Broncos (1-0, No. 29)
No, YOU genuinely forgot who the Broncos might have played and how the game might have gone because you were too busy looking at pictures of Megan Fox from the MTV Awards.
24. Chicago Bears (0-1, No. 16)
The Bears insisting on Andy Dalton being a thing is kinda like when I made a mixtape for a trip to Ocean City that featured multiple different remixes of Elvis Presley's "A Little Less Conversation" and no matter how many times my friends said "enough" I just kept hitting play.
25. Minnesota Vikings (0-1, No. 21)
But they're taking it well if you were wondering.
26. Houston Texans (1-0, No. 32)
The Houston Texans will not lose all 17 football games this season.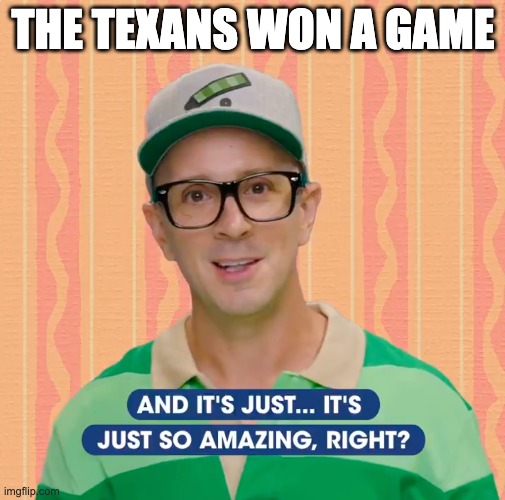 27. Indianapolis Colts (0-1, No. 23)
Yeah but to be fair, what did you think was going to happen without Carson Wentz.
What's that now?
Ohhhhhhhh.
28. Atlanta Falcons (0-1, No. 24)
When you're an Atlanta Falcon.
29. New York Giants (0-1, No. 27)
Everyone out here saying Daniel Jones hasn't done anything like he doesn't have the most combined interceptions and fumbles of any quarterback since 2019. Pretty disrespectful.
30. Detroit Lions (0-1, No. 31)
Lions fans getting dressed for the next home game.
31. New York Jets (0-1, No. 28)
32. Jacksonville Jaguars (0-1, No. 30)
Photo Credit: Kenya Allen/PressBox