Here are my power rankings for Week 8 of the NFL season.
1. Kansas City Chiefs (6-1 record, No. 3 ranking last week)
With the win against the Broncos, Patrick Mahomes tied Kurt Warner and Dan Marino in reaching 30 career wins the fastest among quarterbacks. So it's nice that he finally accomplished something for a change.
2. Pittsburgh Steelers (6-0, No. 4)
It's Pittsburgh week. That reminds me …
3. Baltimore Ravens (5-1, No. 5)
So this was tricky because I feel like I know about all of Baltimore's oddities. So I challenged myself to find some I had never even heard of myself. If you spent the bye week in Baltimore (and perhaps you did!), you could have checked out the 7-11 on Charles Street … because apparently that's where the Oujia Board was named? … or the world's only "tooth jukebox" (how can that possibly be verified?) at the National Museum of Dentistry.
4. Seattle Seahawks (5-1, No. 1)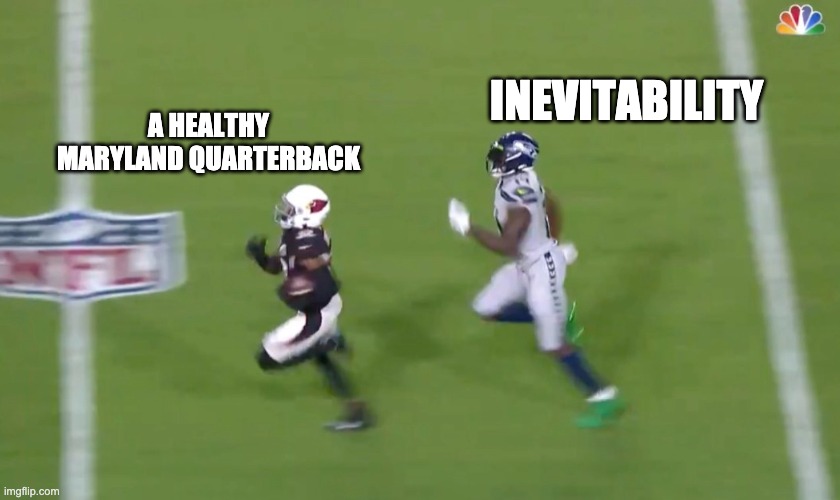 5. Tennessee Titans (5-1, No. 2)
Sure, their first-half defense and end-of-game kicking was brutal, but I think they're going to be OK. I mean, it's not like they aggressively pulled their mic cord out of their pants while lying on a bed or anything.
6. Green Bay Packers (5-1, No. 6)
Felt really good about my fantasy team this week. Wasn't aware Davante Adams was going to finish with 196 catches for 13,000 yards or whatever the hell it was. All good. I had like a half a quarter's worth of Chris Carson.
7. Tampa Bay Buccaneers (5-2, No. 7)
The thing is, I WANT to hate Tom Brady. That's what I'm used to. But the Buccaneers are so historically irrelevant that I just didn't really have it in me to feel anything but wildly indifferent toward them when they signed Brady. But now that they've decided to employ garbage human Antonio Brown? The hate flows like cheap wine on my wife's virtual book club night.
8. Buffalo Bills (5-2, No. 8)
Trailing the Jets in the second half of a football game is about the most shameful thing you can do in this country until you're elected to Congress.
9. New Orleans Saints (4-2, No. 10)
There were rumors that Michael Thomas was on the trade block this weekend. A few Ravens fans asked me if I'd be interested. Imagine that? "Hey Jim, I see you gnawing on that cardboard box over there … would ya be interested in a lobster stuffed with steak that's stuffed with more lobster instead?"
10. Arizona Cardinals (5-2, No. 14)
11. Los Angeles Rams (5-2, No. 13)
Congratulations to the Rams on taking over as the top scoring defense in the NFL after their win against the Bears. I'd say it's the most remarkable thing that happened this week, but gay penguins stole eggs from lesbian penguins at a zoo.
12. Indianapolis Colts (4-2, No. 12)
If you spentthe bye week in Indiana you could have visited the world's largest paint ball or what MIGHT be the world's largest collection of cookie jars. You probably won't make the same mistake next year.
13. Cleveland Browns (5-2, No. 15)
The good news is that they were able to rally to beat the Bengals. The bad news is that for f*ck's sake, they're the Cleveland Browns Odell Beckham is out for the year.
14. San Francisco 49ers (4-3, No. 17)
So maybe they're good after all? I haven't been this confused since a virtual trivia question about what the dot over a lower case "i" or "j" was called and somehow three of the other teams playing actually knew it was a "tittle," but there's definitely no way they're just cheating a-holes, right?
15. Chicago Bears (5-2, No. 11)
It's almost like we've been right to be dismissive of the Bears.
16. Las Vegas Raiders (3-3, No. 9)
Sometimes when I'm looking for a little more information on a team for power rankings I'll search the name of the team or the name of the city on Twitter. This week I learned nothing but the Raiders but I DID learn something about a recent flight from Vegas to Detroit …
17. Miami Dolphins (3-3, No. 16)
If you spent the bye week in South Florida, you could have visited the oldest building in the Western Hemisphere. It's been there since the 1950s. It's a whole thing. Or if you're there visiting grandma, perhaps invite her to spend a day at the World Erotic Arts Museum.
18. Los Angeles Chargers (2-4, No. 20)
Justin Herbert needs to be in prime time every week for the rest of my life. Roll him out there when he's 70. I don't want to do anything but watch Justin Herbert play quarterback with "Desperately Wanting" by Better Than Ezra on an eternal loop.
19. Detroit Lions (3-3, No. 24)
TFW the other guy sucks just a LITTLE more than you suck.
20. Carolina Panthers (3-4, No. 19)
Matt Rhule seriously put his fate in a 65-yard field goal try. I once heard a girl say "I love this ChapStick" and said "can I try it" and went in for a kiss and even I think that's desperate.
21. New England Patriots (2-4, No. 18)
This is wonderfully wholesome New England content.
22. Denver Broncos (2-4, No. 21)
23. Philadelphia Eagles (2-4-1, No. 27)
"Oh cool, I get to see the Eagles and Cowboys on national TV this week," said not a single damn person.
24. Houston Texans (2-5, No. 22)
But Deshaun Watson has posted a passer rating better than 100 in five straight games, which feels kinda like missing the HFStival the year Rage Against The Machine and Stone Temple Pilots co-headlined because your father found out you had stolen his van and stuffed it full of wine coolers but hey, your friends were still able to go and totally got you a T-shirt.
25. Minnesota Vikings (1-5, No. 23)
If you spent the bye week in Minnesota, you could have dumped one of your better players for next to nothing but also you could have visited the world's largest loon OR the world's largest floating loon or a particularly large neglected loon or you could fine like one person from Minnesota and ask why exactly it is that the entire damn state was built around whatever the hell a loon is.
26. Washington Football Team (2-5, No. 31)
We could spend time talking about the worst division since I was in fifth grade OR we could spend time talking about how within months we'll be able to purchase bottles worth of Chick-Fil-A sauce.
27. Atlanta Falcons (1-6, No. 25)
28. Cincinnati Bengals (1-5-1, No. 28)
Sure, the Browns won the game, but Joe Burrow managed to … come out of another week of playing behind the Bengals' offensive line without perishing.
29. Dallas Cowboys (2-5, No. 26)
30. Jacksonville Jaguars (1-6, No. 30)
Apparently the Jaguars had been thinking about benching Gardner Minshew in favor of Mike Glennon or Jake Luton, which is ridiculous because I refuse to blindly accept that Mike Glennon is definitely still an NFL quarterback and Jake Luton is a real thing.
31. New York Giants (1-6, No. 29)
Me when I think I can get power rankings finished before 3 a.m. but suddenly remember that I still haven't found a full version of the Aloe Blacc "All Night Long" cover that they play on "Monday Night Football" and the internet HAS to have it somewhere …
32. New York Jets (0-7, No. 32)
Photo Credit: Kenya Allen/PressBox